Open Architecture
iList Data features an open architecture that combines the flexibility of a full-fledged database development tool with the out-of-the-box ease of use of a single purpose database solution.
For this reason, iList Data can be used to quickly build a wide variety of single user databases ranging from simple to do lists to ambitious multi-table product inventories.
The following database templates currently ship with iList Data. All are fully customizable and each showcases a different iList Data strength. Click on a screenshot to open a new window that shows the full template interface.
Appointment Database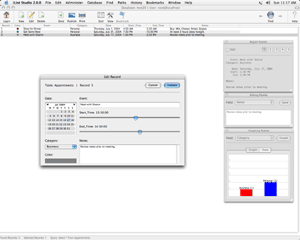 Use this scheduling template to keep track of appointments and upcoming events. Records can be color tagged and categorized. Edit the keywords to suit your needs and add new fields to keep track of additional information.
The record editor (shown above) features a calendar widget for quickly navigating dates. iList Data also features date and time fields for entering temporal values as text.
Also featured are two numerical sliders for entering appointment times in either 5, 10, 15, or 30 minute increments.
CD Catalog
While not exactly iTunes :), this template does offer CD collectors much in the way of customizability.
With this template as a starting point, consider adding a new relational table that features artist info and upcoming tour dates.
Of particular note is the "Label" field that builds its keyword list on the fly from existing values. Study this field closely to learn more about creating lookup keyword lists in iList Data.
Contact Database
Although this is a fairly generic contact database, iList Data's flexibility will allow you to shape it to your liking.
Add fields to store birthdays, maiden names, and the names of spouses and children etc.
With the "Launch URL" option enabled in the Preferences window, double-click on a record to send a contact an email message. Or control-click on a "Home_Page" field to visit a contact's web site.
Diary Entries
Use this diary database to keep a daily journal. You can even track (and graph) how well you're feeling each day.
Study the "Completed" field for an example of how to set up a boolean field in iList Data. This field is defined as a number, assigned a two value keyword list, a boolean format, and inline edit enabled in the Edit View Sets window.
DVD Catalog
As avid DVD collectors, we are particularly proud of this template that boasts over twenty fields plus several ready made keyword lists.
The record list window provides a running total that details the amount of money spent (so far) on a DVD collection.
Consider adding a calculation field to track the total amount saved off the list price.
Grade Book
This is a straightforward mark book that stores four grades for each student and calculates their average.
Summary rows for five of the fields provide a global view of how a class of students are doing.
Consider adding more grade fields to accommodate the number of assignments and tests you assign. Be sure to edit the "Final_Grade" calculation (shown above) that totals up the scores and averages them.
Image Catalog
This image catalog template makes good use of iList Data's extensive file path support.
In addition to inline thumbnails, the template comes ready to import - with one click - file path properties such as creation date, file size, and image dimensions.
Full screen slideshows are also one click away.
The Report Palette lists the file and image details for the currently selected record.
In addition to image files saved on your computer, iList Data can also stream Web images directly into the Image palette. Hence this template includes a "URL" field that can be used to create a Web-powered image catalog.
Sales Tracking
This is a generic version of the same database that we use to track customer orders at Lakewood Studios.
Highlights include a calculation field that totals a customer's order and three formatting strings that turn raw number values into currency.
iList Data also includes extensive support for default values. The "Country", "Date" and "Quantity" fields have their default values set in this template.
There are also two reports defined for this template. The first lists the details for an order. The second (shown above) compiles an email message to be sent to customers.
Research Survey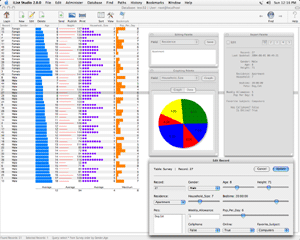 iList Data is an ideal choice for building single-user research solutions in education.
This database showcases iList Data's support for inline graphs, including line, bar, fill, and dot graphs. The pie chart in the Graphing palette is used to view summary results.
iList Data supports several find modes that are ideal for data analysis. The Find By Value window, for example, can search for unique values, as well as patterns, ranges, prevalences, and anomalous values.
Task Manager
Use iList Data to create a to do list database that is customized to meet your specific needs.
This database template features priority, category, and status fields, as well as start and end dates that are edited using calendar widgets.
A color value can also be assigned to any task.
Closely study the "Completed" field to learn more about creating boolean fields that can be edited using checkboxes.